Join our Emergency Department
Updated 8 November 2022
Exciting times ahead for the Emergency Department team
Our incredible team is growing, as is our department. We are looking for Staff Nurses and Healthcare Assistants to join us on this journey of expansion and growth. With an amazing team atmosphere and great opportunities to progress your career, there are so many reasons to join us.
You would be joining us at an exciting time with plans in the pipeline to create a brand new, purpose built and larger Emergency Department (ED) at Dorset County Hospital over the next few years as part of the Your Future Hospital programme of development.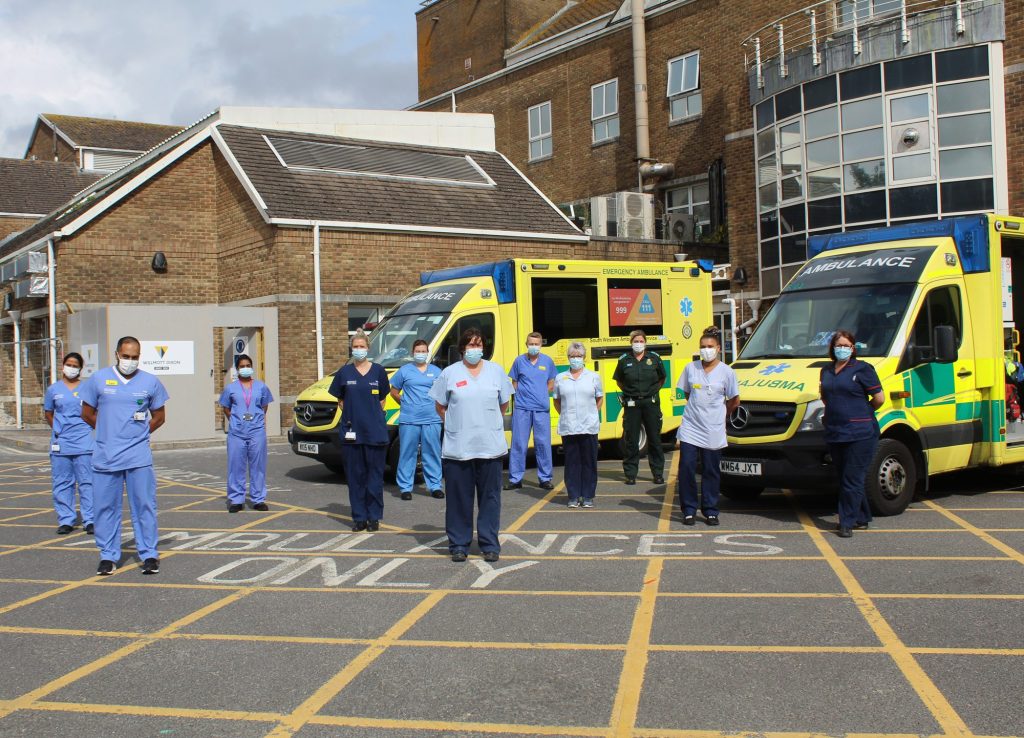 Opportunities for new and existing DCH staff
While we are always looking to recruit new nursing staff to Dorset County Hospital, the Emergency Department is offering career development opportunities for existing DCH staff too.
Working in ED gives you the chance to quickly expand your knowledge and experience of caring for patients with a broad range of illnesses, injuries and conditions in a fast paced but supportive environment.
You can apply for our ED vacancies now:
Healthcare Assistant Vacancies
We also offer DCH registered nurses and healthcare assistants currently working in other departments the opportunity to join us for paid shadow shifts or secondments so you can experience what it's like working in ED to see if it's right for you before applying for a permanent role. HCAs must have at least six months' experience in an acute hospital.
We will be running a series of drop-in sessions for existing DCH staff so you can find out more and sign up for shadow shifts. Details will be added here as soon as we've finalised dates and times.
What our staff say ...
"The team are fantastic and really supportive. When I was new, there were lots of things to learn and I never felt uncomfortable asking about anything I didn't know."
Leanne, ED Staff Nurse
"I'm the new Practice Educator for ED. I'm very passionate about developing the nursing team. The developments are so exciting and I'm really looking forward to expanding and becoming a bigger and stronger team. I think our team are ace!"
Katy, ED Practice Educator
"I'm a Senior Healthcare Assistant who started in the Trust as porter. I love working down here in Dorset and the team is incredible. We all support each – even on your worse day you'll be picked up by the team. Joining us will be the best thing you will ever do!"
Dan, Senior HCA
Why work for DCH?
Benefits we offer our staff:
A dedicated Practice Educator to support you with your development;
A supportive, happy and hardworking team surrounding you;
Being part of a growing and developing team and Trust, who truly care about each member of staff;
Access to incredible education and training opportunities to support your career goals;
On-site accommodation (subject to availability)
NHS and Trust-wide benefits including at least 27 days of paid annual leave, discounts and of course, the NHS Pension Scheme.
Contact us
If you would like further information or have any questions, please email recruitment@dchft.nhs.uk or call us on 01305 255792.