Digital systems helping to transform patient care at DCH
Updated 27 April 2023
7 December 2022
Clinicians at Dorset County Hospital's (DCH) Emergency Department have been at the heart of developing a new system with the Trust's Digital Team that aims to streamline processes and improve patient experience.
The Emergency Department (ED) provides a 24-hour service and sees around 55,000 patients a year – more than double the number of people that the current ED was originally built for.
DCH received one-off funding of £15 million from NHS England as part of a drive to upgrade Emergency Departments across the country. As well as using this funding to refurbish the existing department, staff also wanted a digital system that would make processes simpler and give clinicians more time with patients.
The Trust already invested in its Digital Patient Record which is being rolled out in phases to provide a single view of key patient information. ED clinicians also wanted to be able to record activity at the point of care – so they had real time information to support patient care, operational management and patient flow in the department.
Clinicians wanted a seamless experience, with patient observations, test results, ED documentation and handover information all together in one place, as opposed to primarily paper-based records.
The Trust's digital and clinical teams reviewed the market at the time and there was no ED solution that provided the opportunity to move from paper to a fully digital solution at the point of care. Based on original work undertaken with NHS clinicians, our DPR supplier Fortrus agreed to work with us to further develop the system to fully meet the digital requirements of emergency medicine clinicians.
User experience – designed by clinicians, for clinicians
Fortrus have expertise in user-centred design which enables clinicians to engage in the design and deployment process from day one. Fortrus spent a lot of time on site with clinicians and digital team to identify what works well, what doesn't and what was needed to make their jobs easier.
After just over a year of development- and a thorough period of testing - the Trust went live with the system, called Agyle, in April. The digital team deployed 'floor walkers' to be on hand in the Emergency Department to support staff, answer questions and make sure the system was working for the teams.
Agyle now sits as part of the Trust's DPR and is used for main clinical and operational tasks, including clinical documentation, assessments, observations, bed management, and support in-hospital referrals between services.
Dr Spencer Cheung, Consultant in Emergency Medicine at Dorset County Hospital, said: "Before Agyle we were largely paper-based and logging into different systems to view x-rays, scans and blood results, which was very time consuming. Agyle speeds things up by bringing all that information together in one place, along with patient notes, so staff in the Emergency Department (ED) can access and update information immediately. It also makes it quicker and easier to share information with other departments or healthcare providers at the point of discharge from ED. "The system also gives us a geographical view of the department, so we can easily see in real-time who is where. This has been particularly useful during the refurbishment when we have had to temporarily close areas and move services while construction work was underway."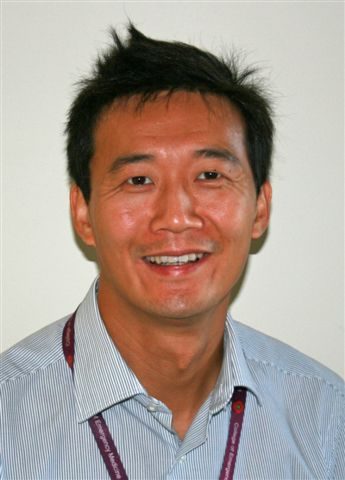 Speaking about the Trust's plan to implement Agyle in inpatient areas and to further expand the system's ED functionality, Dr Cheung said: "There's still more work to do to improve the system, including linking with the wider hospital, but there are exciting options for the future – including digital sign-in for patients and speech recognition to help add notes to patient records more quickly."
The benefits extend beyond the Emergency Department too. As the system continues to be rolled out and developed, it will become easier for Emergency Department and inpatient teams to access the wider DPR, including the system-wide Dorset Care Record.
Administrative staff will also find it much quicker to manage clinical records, and those records are available in real time to everyone who needs them.
Just the beginning…
Although an incredible amount of work has been done to get to this point, there is still more to do – both in terms of reviewing and adapting the system based on user feedback and rolling the system out more widely across the Trust.
Jeni Frampton, Interim Head of Systems, Development and Digital Transformation at Dorset County Hospital, said: "Right from the very start, we wanted the user experience to be at the very heart of this project, which is why Agyle and our partnership with Fortrus is such a good fit. Too often a new system can be introduced without proper consideration for those that will use it every day. We knew that we needed to find better ways of working but it was so important that we respected the clinical processes that our doctors and nurses have to follow every day – never mind the additional pressures from COVID-19.
"The ED is open 24/7, so it was vital that we built a system that clinicians use on day one. Their input to the design and testing was crucial and we're incredibly proud of what the whole team has achieved so far.
"Although we have gone live, this is just the first iteration and there is still a lot more to do and we'll continue to review and adapt as we go. We are constantly talking with our clinicians to see what is working well, what isn't and what other features we can add to allow our staff to continue to provide outstanding care for patients."
The team at Fortrus are now taking the work they have done with DCH to see how it might benefit other NHS Trusts.
Jon Atkin, Chief Operating Officer at Fortrus, said: "Our longstanding relationship with DCH, a truly innovative partner to work with, has allowed us to deploy our UX-led approach to continually evolve our EPR. Their expert and wide-ranging contributions have helped create a truly unparalleled experience for Agyle's users that can now drive even greater benefit to the NHS."