Joint chief executive to take the helm of two Dorset NHS trusts
Updated 30 December 2022
15 December 2022
Following a robust recruitment process NHS trusts Dorset County Hospital and Dorset HealthCare have appointed Matthew Bryant to the role of joint Chief Executive Officer.
Matthew will join the trusts in the newly-created post from his current role as Chief Operating Officer for hospital services at Somerset NHS Foundation Trust and Yeovil District Hospital NHS Foundation Trust.
The selection process included stakeholder sessions with staff, patients, carers, members of both trusts' Boards and partner organisations in Dorset.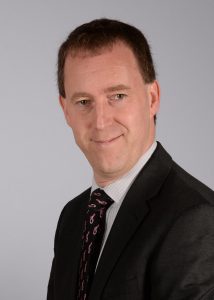 Matthew currently leads the Somerset health and care system boards for planned and unplanned care, and is interim chair of the Somerset, Wiltshire, Avon and Gloucestershire Cancer Alliance.
He spent over a decade at the Royal Devon and Exeter NHS Foundation Trust, where he led surgical and medical services as well as redesigning care for frail older people. He is currently senior independent trustee for Hospiscare, which provides care for people with a terminal illness in Exeter and East Devon.
The Boards of the two NHS trusts agreed in September to appoint a joint chief executive and joint chair to help improve the delivery of care to local communities by simplifying decision-making, increasing integration and improving quality.
The shared leadership approach will focus on:
prevention of ill health
tackling health inequalities
better integration between physical and mental health
joined-up workforce planning and development.
Andy Willis, Chair of Dorset HealthCare, said: "I am delighted that Matthew will be joining us. He brings a wealth of experience in senior NHS roles in the south west and has helped to bring together acute, community and mental health services in Somerset. He has a thorough understanding of working across two organisations to deliver excellent services for our communities."
Mark Addison, Chair of Dorset County Hospital, said: "Matthew will play a key role in developing and strengthening joint working across our two trusts as well as the wider health and care system in Dorset. We are embarking on a new and exciting phase in the development of our trusts and Matthew's experience will help us to navigate the opportunities and challenges ahead."
Matthew Bryant said: "I'm really excited to have this opportunity as chief executive to lead both Dorset Healthcare and Dorset County Hospital as we work together to improve the health of the population of Dorset.
"I'm looking forward to getting to know colleagues, patients, service users and partners as we continue to bring our mental and physical health services together and remove barriers between community and hospital care. It's a tough time for everyone in the NHS at the moment but I have a strong belief that by empowering our colleagues and working together with others we can make a real difference to improving health outcomes for our population."
Matthew will start his role in spring next year with current Acting Chief Executive Dawn Dawson (Dorset HealthCare) and Interim Chief Executive Nick Johnson (Dorset County Hospital) continuing in post until he arrives.
In the New Year the trusts will start the process to recruit a joint chair with a view to them being appointed by the end of March, when both current chairs are due to complete their terms of office as chairs of the trusts.
There is no intention to merge the two organisations. The financial, governance and regulatory responsibilities for each trust would still sit with the two Boards and staff will continue to work for their current organisation.